CENTURY 21 Northstar Association Management
About CENTURY 21 Northstar
CENTURY 21 Northstar was founded in 2004. We soon grew to become one of the largest property management companies in the Portland Metro area with offices in Portland, Vancouver and Longview. In 2014 we became affiliated with Century 21 Real Estate, the world's largest real estate services company. We currently manage over 1,800 units.
Our Approach
We strive to maintain a flexible approach in managing your association. While community management is becoming more and more challenging, it is important to maintain a personal connection, and work closely with the Board of Directors to understand your individual needs.
Our Professional Staff
All of our Community Managers and support staff are active members of the Community Association Institute. Our staff members regularly attend educational workshops, and either hold or are in the process of obtaining their Certified Manager of Community Associations (CMCA) designations.
Associations are subject to state laws governing non-profit corporations and homeowners associations. New laws are developed continually, and our staff is dedicated to keeping up to date with the latest legislation, codes, and tax rulings. We also have access to legal counsel to guide us through the more challenging aspects of these rules.
As the managing agent, CENTURY 21 is responsible to perform the services described in the management agreement, and to provide counseling and advice to the Board of Directors. Each association is assigned a Community Manager, in addition to receiving collaborative assistance from all members of our Association Management department.
Full Service Management Plan
Your Community Manager will coordinate all aspects of the management, maintenance, and administrative duties provided in our agreement.
Financial reporting
We will collect monthly/annual dues and assessments, follow up on delinquencies, approve and pay all bills related to the property, and request Board approval for any unplanned maintenance invoices. We will create monthly financial reports for the Board, as well as prepare a proposed annual budget and year-end financial statement.
Homeowner Payments
Payments can be made online, or mailed to our secure, off-site lockbox. Homeowners can log into their online portal and set up recurring auto debits from their bank account or credit/debit card, as well as review their current balance and payment history.
Delinquent accounts are issued a 10-Day Notice from our office. Follow-up is performed in accordance with the Association's collection policy.
Monthly Financial Statements
We use a modified accrual method for our reporting, so that statements are easy to read. Your Community Manager will review each monthly financial report before sending it to the Board. These are sent by email, and posted to the Board's password-protected webpage. A typical report includes:
Delinquent accounts are issued a 10-Day Notice from our office. Follow-up is performed in accordance with the Association's collection policy.
Profit and Loss/Budget Comparison Report
General Ledger
Balance Sheet
Accounts Receivable Summary – showing homeowner delinquency
Accounts Payable – showing any unpaid bills entered in system
Current Homeowner Roster Bank Reconciliation Summary
Bank Statements
Copies of paid invoices
Annual Budget
We will prepare a proposed budget and year-end financial report annually. We will request Board approval for all unplanned maintenance issues.
CPA and Audit Coordination
We will provide financial information to the Association's accounting firm. The cost of the tax return is an Association expense. We typically transfer funds between the operating account and the reserve account each month.
Corporate Filings
We will track and pay all required state and governmental filings, and maintain the records.
Vendor Management
We keep records of all vendor licenses and insurance information, and verify that their insurance coverage is sufficient and appropriate.
Annual 1099 Reporting
We will prepare the required forms and submit to the Internal Revenue Service and to each vendor.
Administrative
Meetings. Each year, C21 Northstar's representatives will attend up to four regular Board meetings and one Annual meeting. We can attend additional meetings for an hourly charge upon request. We will send the required notices to all homeowners in advance.
We will coordinate and attend Annual Meetings, send notices and proxies to homeowners, and assist with the process of electing board members. Meeting minutes will be distributed to all homeowners and maintained on our website.
We will also prepare management reports containing recent maintenance activities, bid proposals, homeowner communications, architectural/home improvement requests, and delinquency correspondence, as well as other pertinent information for the Board. During each meeting we will create an action list of tasks to be undertaken by management
Insurance Certification and Renewal
We will provide copies of your governing documents to the Association's insurance company so they may ensure that the policy is in compliance. We will address the renewals at least 30 days prior to the expiration date.
Reserve Study Coordination
A reserve study is required by law in Oregon and Washington. This study will evaluate all components and projected maintenance over a 30-year period. Prior to creating the proposed annual budget, management will coordinate with the vendor for an updated reserve study.
Architectural Review Requests
C21 Northstar will receive Architectural Review Requests and coordinate with the Board or Review Committee, and follow up with notification to the homeowner.
Welcome Packets
Each new owner will receive a letter from our office with links to the Association's governing documents, C21 Northstar's contact information, and payment options for their Association dues. Welcome packets are also sent to all current homeowners upon your community's transition to our management services.
Lender and Realtor Requests for Information
We will process these requests at no cost to the Association.
Communication
Newsletters. Per our contract, we will prepare the Association newsletter, email copies to homeowners, and post them on the Community website. Newsletters can also be mailed upon request.
Website. Our management software provides a homeowner's web portal where each homeowner can view their account balance; pay their dues online; and view the Association's governing documents, notices of meetings, and other important announcements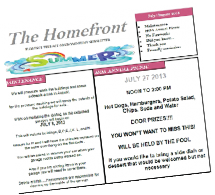 Enforcement of Bylaws and Rules & Regulations
An important function of the management company is to eliminate the Board of Directors' responsibility for rules enforcement, by sending compliance notices through a neutral party. This can greatly ease tension among neighbors and maintain a professional atmosphere.
The Board will maintain complete authority with regard to implementing Bylaws and Rules enforcement. The Association Manager will send all violation notices and warnings to the homeowner, and follow up as appropriate, including the levy of fines when necessary.
Property Site Visits and Compliance Inspections
Property Site Visits. Per our agreement, management will visit the property and note any landscaping or maintenance issues, safety concerns, and violations of CC&Rs not covered in the broader compliance inspection. The Board of Directors, and Committee Members are encouraged to participate.
Compliance Inspections
Enforcement of the CC&Rs, Bylaws, Resolutions, and House rules is a fundamental responsibility of the Board of Directors. Per your contract we will perform these inspections as often as requested. Each individual residence will be evaluated for compliance, and violations will be documented with photographs.
Depending on the stage of the violation and the Association's policy, we will send the owner a written notice describing the issue, citing the rule which was violated, and request that they report back to us within 10 calendar days, confirming the violation was cured. Further follow-up notices, and a levy of fines may become necessary. The board of directors will be notified of all reported violations.
Maintenance and Project Coordination
We will coordinate all maintenance and improvement projects as requested by the Board of Directors. We will maintain a list of recurring projects and maintenance tasks throughout each year, and a summary of capital improvement projects approved by the Board.
Recurring maintenance. Routine tasks that are performed at least once each year, as well as unanticipated repairs, will be scheduled and coordinated with vendors approved by the Board of Directors. We maintain a list of reliable and established vendors that we utilize on a regular basis. In the event of an emergency maintenance issue, we will dispatch an appropriate contractor from our list of preferred vendors.
Capital Projects. These are maintenance projects that are scheduled less than once per year, and are most often included in the Reserve Study. These are generally larger projects where we create a request for proposal to ensure that each vendor has the necessary information to provide an accurate proposal based on a specific scope of work. We will obtain and compare bids from multiple vendors and provide them to the Board for approval.
We will oversee the bidding and approval process, and coordinate all aspects of the project including notification of homeowners, meeting with vendors as necessary, and inspecting the results upon completion. Capital Project management is charged at an hourly rate.
Contact Us
Thank you for taking the time to
review our services.
We look forward
to meeting with you to discuss our
proposal and how
we can meet your
Association's needs.
CENTURY 21 Northstar
7800 SW Barbur Blvd. Ste 1A
Portland OR 97219
503.297.1014
CENTURY 21 Northstar
237 Chkalov Drive Ste 112
Vancouver WA 98684
360.425.2870
CENTURY 21 Northstar
1234 Commerce Ave
Longview WA 98632
360.425.2870